#WakeupNigeria: Ex- BBN House mate Miyonse starts the week with 'Banana Bread Pancakes'
'Banana bread pancake and others pancakes are a mash-up. Oh, did I really just say that? Yes, a forcefully forked mash-up of super ripe bananas, pancake mix, nuts, buttermilk and spices whose smell as the cakes cook conjure up cravings for fresh baked banana bread. But hold on tight, I haven't even hit the secrets that lie in them there hot cakes'. So said Miyonse.
Because It's All About These Cakes
These pancakes go far and beyond a simple mashing of banana into pancake mix. Oh no. I did more plotting and planning to create some easy ways to add healthy ingredients for a banana blowout breakfast to start the day off right.
These are the secrets to this recipe's little victory in the kitchen: 
Mashed banana and coco pops are classic for banana bread, so of course, they represent. Fruit + nutty protein boosts these cakes to another level. Use bananas that are super ripe. The darker the skin, the sweeter within.
To make these pancakes extra tall and fluffy, I added baking powder to Kroger's pancake mix. And two eggs. And boy do those two things make these hotcakes stand at attention.
And finally, my big addition that only I know is there: Old-fashioned oats! Oats are a serious superfood that help stabilize the body's blood sugar, lower cholesterol and are one of the best sources of fiber around.
If you make this recipe, please let me know! Leave a comment below or take a photo and tag us on Instagram or Twitter with #wakeupnigeria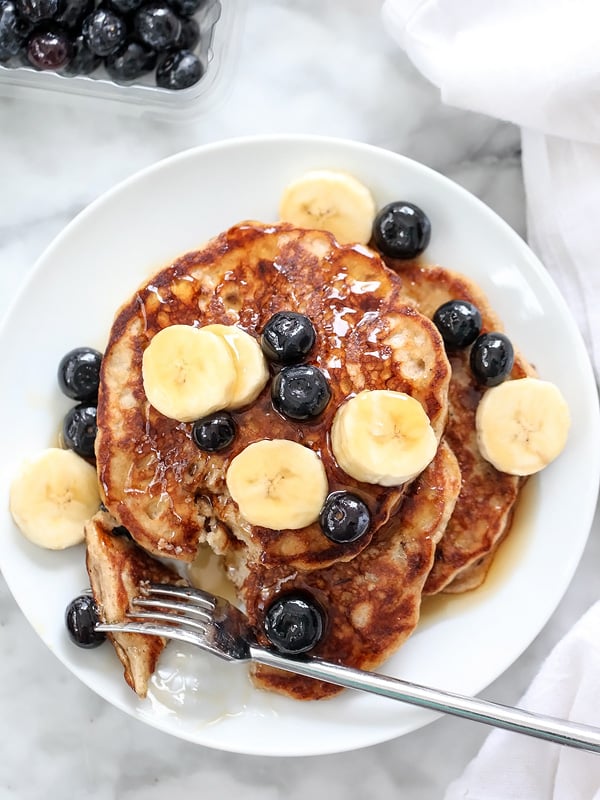 The Best Banana Bread Pancakes
These pancakes go far and beyond a simple mashing of banana into pancake mix when healthy additions like old-fashioned oats and chopped pecans make your day.
Ingredients
2 cups Kroger buttermilk pancake mix
2 teaspoons pumpkin pie spice
2 teaspoons baking powder
½ cup coco pops
salt to taste
2 large eggs
2 cups buttermilk
1 teaspoon vanilla
3 medium very ripe bananas, mashed
Maple syrup
Instructions
Whisk the pancake mix, pumpkin pie spice and baking powder in a medium bowl. Stir in the oats.
In another bowl, whisk the eggs and then stir in the buttermilk, vanilla and mashed bananas, mixing well. Add the wet ingredients to the dry stir to combine. If the batter is too thick, add a little more buttermilk. Let the mix sit for 10 minutes or so while the griddle or fry pan heats.
Spray the griddle with cooking spray over medium heat, about 375 degrees F. When the griddle is hot, pour or scoop the pancake mix onto the griddle, about ¼ cup per pancake. Cook until the bottoms are lightly browned and top is beginning to bubble, flip, and repeat with the other side.
Serve with maple syrup, blueberries and sliced bananas if desired.
Thanks for stopping by and watching #WakeupNigeria. Have something to say? We would love to hear from you. Let us know in the comments below.
Make it a great day and cook something good.