DNA confirmed! Twin sisters swapped at birth reunite 19 years after
19-year-old teenagers who were swapped at birth have been confirmed to be 100% blood sisters.
The story of Sharon and Melon unfolded like a movie. They both reunited in April 2019 after allegedly being separated from their respective biological mothers at Kakamega Provincial General Hospital, now Kakamega Teaching and Referral Hospital.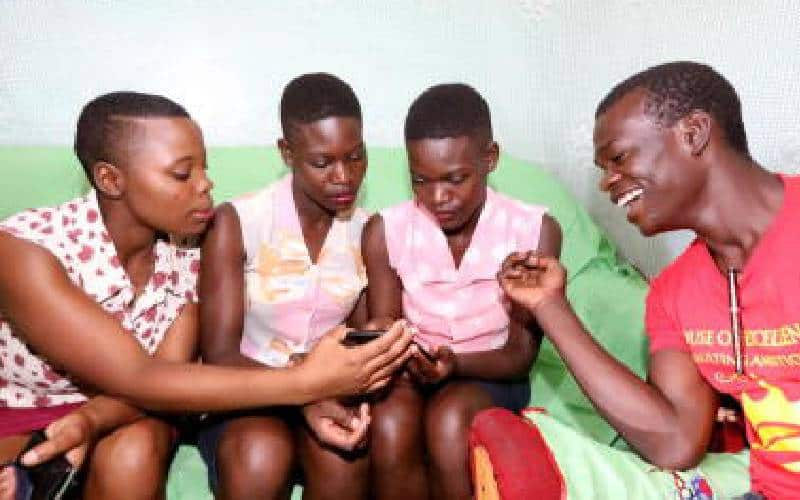 According to KTN News, Rosemary Onyango gave birth to twin girls same time one Angeline Omina delivered her daughter named Sharon in 1999 and it happened that the twins were placed in separate incubators and after one week. Their mum walked out with two babies and happily raised them as her own, not knowing that one girl had been mistakenly switched with Angeline's.
Rosemary named her kids Melon and Mavies Imbaya but always wondered why the girls did not resemble at all. Melon and Sharon who bear a striking resemblance grew up in different counties but surprisingly schooled within the same area.
One day when Melon had attended an event at Shikoti Secondary School, students at the institution could not understand how she looked like one of their schoolmate.
"When I went to Shikoti, students saw me and started laughing. I was so afraid after they told me I had a sister at their school. I told them I had a sister at Kimosin Girls and not Shikoti,"
Melon said. Later, her teachers attended an event at Masinde Muliro University and spotted Sharon and they were left in complete disbelief as she was a carbon copy of Melon.
Sharon and Melon then connected via Facebook and to them, it was like looking at a mirror. Melon then decided to travel to Nairobi where Sharon lives and that is when they met for the first time.
"It was our first time to travel to Nairobi and we met in town. We hugged and cried uncontrollably. It was like there was strong bond between us and that makes me believe that Sharon is my sister. We now want a DNA test done immediately to end the doubts,"

Melon said. Sharon indicated she would like to stay with Rosemary if the tests reveal the lady is indeed her real mother. "If we are sisters then Kakamega General really wronged us because we were forced to live lives that did not belong to us,"
However after getting to meet each other, they decided to go for a DNA test and result have confirmed it that the both of them are blood sisters.
According to the DNA analysis conducted by Lancet Kenya (PLK), Sharon Mitekwa and Melon Lutenyo share identical DNA profiles with 23 allelic loci tested showing 100 per cent perfect match which is consistent with the two being biologically identical twins.
"Rosemary Onyango cannot be excluded as the biological mother of Sharon Mathias and Melon Lutenyo, who have a compatible obligatory maternal allelic profile with a 99.99 per cent probability," read the findings.
Melvis Imbaya, who has been living with Melon as fraternal twins in Kakamega County, has been confirmed to be the daughter of Angeline Omina and Wilson Luttah, who has been living in Nairobi with Sharon Mathias as their daughter.
"Melvis Imbaya exhibits a compatible obligatory maternal and paternal allelic profile with that of Angeline Omina and Wilson Lutah, respectively, Thus Angeline and Wilson cannot be respectively be excluded as the biological mother and father of Melvis Imbaya with a probability percentage of 99.99 per cent," the DNA analysis further stated.