Police release video of Jussie Smollett with rope around his neck
A footage showing Jussie Smollett with a rope tied around his neck on the night he was allegedly attacked, has been released.
The actor popular for his role as Jamal in popular TV series, Empire told the police he was punched in the face, had an "unknown chemical substance" poured on him and a rope wrapped around his neck in a racist and homophobic attack in January.
When one of the officers asked Smollett if he wanted to take the rope off of his neck, the 37-year-old actor did while stating:
"Yeah. I do. I just wanted you all to see it."

"There's bleach on me, they poured bleach on me," Smollett added.
The Chicago Police believe the attack was staged by the actor.
They've released footage from the night where Smollett appears to have the rope still around his neck.
The footage shows two police officers going to Smollett's apartment building in Chicago at around 8:43 in the morning – almost seven hours after the alleged attack.
They are met by Frank Gatson, who introduces himself as Jussie Smollett's "creative director".
He tells the police: "I work with him. He is like a star, works on the show Empire. So I think he doesn't want it to be a big deal."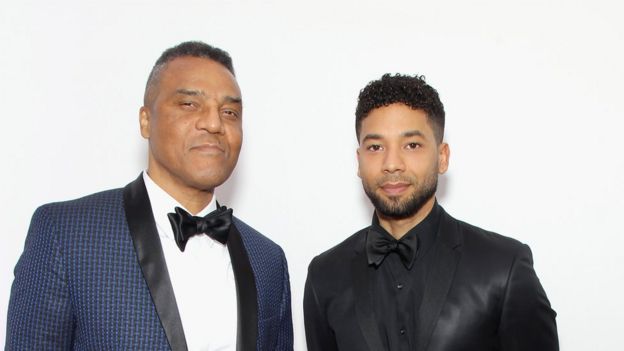 He adds that he's emotional because the attackers put a makeshift noose around Jussie Smollett's neck.
The footage is part of hundreds of files released by Chicago Police from their investigation into the case.
Another video appears to show Abel and Ola Osundairo – who are accused of helping to stage the alleged attack – in a cab on the night the police were called.
Video from inside taxi of Osundairo brother's on their way to meet Jussie Smollett night of reported attack..according to CPD@cbschicago pic.twitter.com/kYbUcoiwi5

— Charlie De Mar (@CharlieDeMar) June 24, 2019