Dismiss the myth about Radiography, it's an important illness detection exercise
Many people do not know the importance of radiography, hence, experienced Radiographer, Mrs Elizabeth Balogun joined the ladies of 'Your View' to attempt curbing the phobia in people pertaining to dangers in radiography exercises.
Mrs Elizabeth stated that some persons are well trained and certified to carry out these X-ray procedures and there is a regulation for these radiography practitioners:
'There is what we call risk benefit analysis, for instance in a situation where there is an accident resulting to fractured ribs or punctured lungs which could complicate issues for the patient, radiography comes into the picture in detecting the actual problem for further treatment in the right direction.'
Radiography, according to her, is an art and science of applying various forms of radiance energy on human beings, the various forms of X-ray imagery include:
– Conventional radiography
– Computer en-tomography(uses X-rays)
– Magnetic resonance
– Ultrasonography (ultrasound)
Tope quizzed: "How equipped are we in Nigeria to carry out all these radiography (X-ray) exercises?" Mrs Elizabeth explained that there is a public/private partnership which the government introduced. These equipment are expensive, however, Lagos State isn't doing badly.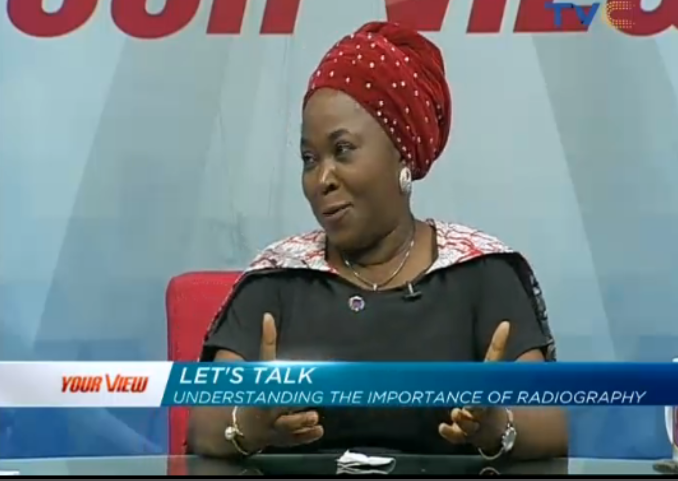 Nyma then asked about the lingering rumors of being exposed to certain radiation outside the X-ray room:
The radiographer, who says she has been practicing for over 20 years, tilted the conversation a little by diverging into physics for better clarification and for better understanding, she explained the Electromagnetic spectrum where you have the high energy from the gamma, X-rays and the non-ionizing, the ones that cannot displace a cell or an electron from the cell.
"When we talk about effect or risk it's in regards to the cell getting damaged or destroyed."

'What I deal with as a radiographer is far more hazardous than what the people are scared of.'– Mrs Elizabeth Balogun.
Mrs Elizabeth Balogun finally advised that as a patient, you have every right to ask questions and follow up in the process of radiography when in the hospital. Also as a practitioner, you should inform your management if you see any sign in your patients. Though most young ladies feel embarrassed when asked questions on pregnancy but for preventive measures, alert the management before carrying out the radiography process on her.
–