Food recipe: Bread Like Sushi Kebab
Chef Nathaniel brings us a recipe from Japan to warm up our appetite, a breakfast you can easily try at home. He names this one  'BREAD-LIKE SUSHI KEBAB! YUMMY'
Ingredients:
– Egg
– Milk
– Garlic
– Chicken
– Plantain
– Cinnamon
– Vegetables
– Slice bread
– Bell peppers
– Black pepper
– Spring onions
– Nutmeg
– Shredded carrot
– Lettuce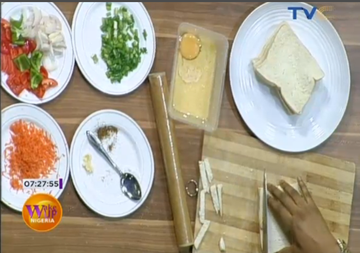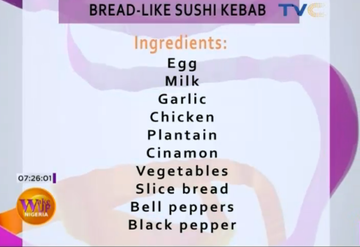 Procedure:
Spice the chicken with black pepper, salt and nutmeg, then fry.
On the bread  & mixed egg/milk add cinnamon for a particular flavor.
We start with the bread by chopping off the edges.
Next, we roll the bread up to flatten it
Spread the mixed egg/milk on the bread, then fry that part for a while
Fry the plantain and chicken, after which we add them on the fried bread, add the lettuce and the shredded carrot with other vegetables
Next, we roll it up and fry again
Then our Japanese recipe is ready. You can attempt this at home and you won't regret it.
SEE VIDEO BELOW: